Talks and Workshops
I have a current CRB certificate and public liability insurance and am happy to travel or stay overnight should you want to book a talk or workshop.
Talks
Each of these talks takes approximately one hour and is in the form of a powerpoint presentation accompanied by samples and sketchbooks. The cost of each talk is £70 plus travel at 45 pence per mile.
Stories in Stitch
Many of my pieces have been inspired by text, whether it be illuminated manuscripts, a word such as Liminal", a haiku from which I made a series of kimonos, or a book such as Alice in Wonderland. See the hangings from the "Alice" exhibition together with the sketchbooks, the evolution of the ideas and examples from each of these series of work.
Diamond Stitches
Science meets Textiles, learn about my community outreach projects, "Designs for Life", "The Largest Diffraction Pattern in the World!" and work as Artist in Residence at Diamond Light Source, the UK's national synchrotron facility, located at the Harwell Science and Innovation Campus in Oxfordshire.
City & Guilds and Beyond

How I began my career as a Textile Artist. I will bring samples and assessment pieces from own City & Guilds onwards and discuss how I began teaching and creating bespoke textiles.
Guild Workshops
Venues
Courses are booked at venues as follows:-
Please book these courses through National Needlework Archive. Should you need any further information please do not hesitate to contact me
ADVANCED MACHINE EMBROIDERY Wednesday 14th September 2016 - 10 – 4 pm
Taking Elizabethan designs and textiles as a starting point, this course is for those who want to develop their machine embroidery skills. We will work with a range of experimental fabrics including soluble fabric, packaging and organza to create a set of samples.. We will also use metallic threads and heavier threads on the bobbin to explore patterns and textures.
£50 (£45.00 Members)
FANTASY FLOWERS - Wednesday 12th October 2016 - 10 – 4 pm
During this workshop you will use machine embroidery techniques and work with organza and soluble fabric to create a Fantasy Flower. These flowers can be used to create a simple corsage, or multiple flowers can be used for fascinators, or to embellish bags, hats etc. This course is suitable for those wishing to improve their skills in machine embroidery by working on fine fabrics and complete beginners alike who can use the presser foot to stitch their flower. A sewing machine is required.
£50 (£45 Members)
Please book this courses through Mill Arts Centre. Should you need any further information please do not hesitate to contact me
SOLUBLE BOWLS - Saturday 8th October 2016
A chance to learn how to use soluble fabric with machine embroidery to create a delicate bowl, which can be further embellished with beads or stitch.
JAPANESE STAB BOUND BOOKS - Monday 17th October 2016 - 12 – 4.30 pm
Japanese Stab Bound Books are ideal for anyone beginning to think about making their own books. There is no folding or gluing involved, although if you want to make your own more personalised cover you could use traditional origami paper or marbled paper. You may also want to add beads and develop the stitched bindings after the class.
£35
COPTIC BOUND BOOKS - Monday 21st November 2016 - 12 – 4.30 pm
Coptic Bindings are made by sewing together a number of paper sections together through their folds. Each section is stitched to the last across the spine and decorative ribbons or bead may be added to enhance the look of your stitching. You will also be shown how to cover cards with decorative paper to give a neat and professional finish.
£35
FILLING ALBUMS AND SKETCHBOOKS - Monday 20th March 2016 - 12 – 4.30 pm
During this course we will look at how to arrange the material you have collected, in either your own bought or handmade sketchbook. We will look making windows, folds, flaps and inserts to alter the structure of the book as well as ideas for decorating individual pages. Please bring along your own collection of materials plus a sketchbook or scrapbook. This material could include photographs, recipes, postcards or any other material of your choice. Do note there is no sketching or drawing involved in this class!
£35
For all of these workshops, please bring with you a pencil, pair of scissors, metal ruler and any scraps of interesting fabric or papers that you'd like to incorporate in your book. If you have a cutting mat then please bring it along with you, otherwise one will be supplied. No previous experience is necessary.
Please book these courses through Ardington School of Arts. Should you need any further information please do not hesitate to contact me
FREE STITCHING - TEXTURE, COLOUR AND LINE - Friday 31st May 2017 - 9.45 - 4.30pm
Enjoy an accessible and inspiring introduction to free machine embroidery. With colour and texture in mind, we will look at the use of basic stitches as well as the imaginative use other more elaborate stitches on your machine. Whether you are just discovering the world of textiles, consider yourself an embroiderer or focus on patchwork and quilting, there will be ideas to enhance all your textile projects.
£75 Materials £7
TRANSFORMING TEXTILES - INTRIGUING SURFACES FOR STITCH - Wednesday 4th August 2017 - 9.45 - 4.30pm
Layer, stitch, bond and distort materials into a variety of rich textures and patterns, including delicate lace-like structures. This is a chance to experiment with kunin felt, transparent nets, organzas, metallic threads and packaging, and explore ways of transforming materials by layering and stitching. We will also use a soldering iron and heat gun to create new and innovative fabrics.
£75 Materials £7
Residential Courses, Cornwall 2018
You will stay on the beautiful, working farm of Bodrugan Barton just a few miles from the "Lost Gardens of Heligan" on the South Cornwall coast. The farm has a heated indoor swimming pool, and sauna which you are free to use.
The cost of the course includes a single room with ensuite shower room. Dinner on the first and last night and lunches on all teaching days. All the food is fabulous, and local pubs and restaurants can provide evening meals if you can still eat them! You will need to bring your own breakfast and something light to eat in the evenings.
The cost for the course is £470. You can pay by cheque, payable to Anne Griffiths, 4 Gabriel House, Newbury Street, Wantage, Oxon OX12 8DJ, or via PayPal.
23rd February - 2nd March 2018 "Architecture"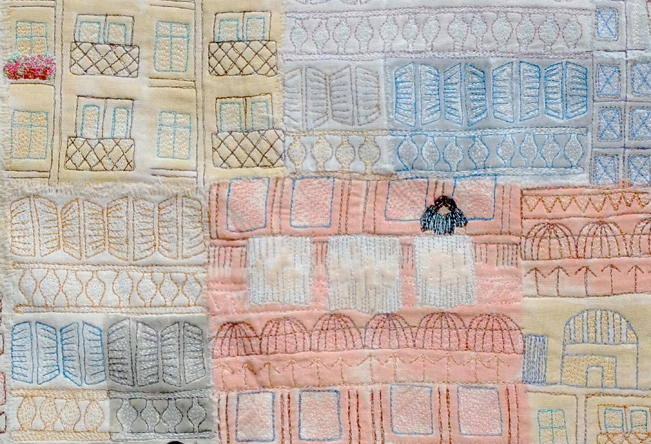 Although the content is far from finalised, this is a subject which lends itself to be interpreted in so many different ways.
Perhaps you live near a historic Castle, Church or Cathedral and could take the shapes of doors, windows or arches, or the patterns in old locks or hinges as a starting point. Maybe you have images of Mediterranean holidays, vibrant colours, narrow streets and balconies, here is the image of a quilted piece I made some years ago which was printed with various emulsion paints. Other styles which immediately sprint to mind are the fantastic Gaudi buildings in Barcelona, Islamic minerets, or Art Deco or just stick closer to home and design a piece inspired by your own home.
If you are generally inspired by nature, why not research a particular flower, bird or animal and how it has been interpreted in stained glass, wood or stone carving, floor tiles or mosaic.
Whatever your choice, the course is suitable for all levels of experience and will be a week full of laughter and stitching, here are a couple of comments from previous students:-
— "I've really enjoyed the week, thanks for your excellent advice, it's been wonderful."
— "What a lovely week - you have given me new confidence and inspiration. Thank you."
Suggested Programme and Samples.
Friday
Arrive in time for afternoon tea and cake, discuss plans for the week and look at samples.
Saturday
Visit St. Just in Roseland a beautiful 13th century church where ancient legend says is the spot where Joseph of Arimathea came ashore with Jesus. A spot of lunch and back for some design. If you have visited the church before I am happy to spend the whole day beginning projects.
Sunday
Creating backgrounds! Use a soldering iron or a heat gun to distort, cut and layer manmade fabrics, make a series of printing blocks or create your own textures with paints and print.
Monday
Experimental patchwork techniques, cathedral windows, trapunto etc.
Tuesday
Free to explore St. Austell, St. Ives and maybe Tate St. Ives, Eden Project or continue working in the studio.
Wednesday
Boxes, Caskets and 3 Dimensional Tassels
Thursday
To be arranged.
Friday
Depart with Sketchbooks, Samples and Ideas!
Students' work completed in March 2013, October 2013, March 2015 and March 2017.
Summer Schools 2017
Please book this course through Oxford Summer School Website. Should you need any further information please do not hesitate to contact me
ALL THAT GLITTERS - July 24th - 29th 2017
Using Illuminated Manuscripts as our starting point, we will create our own mixed media version. We will use old wooden printing blocks to emboss tomato puree tubes, experiment with acrylic paint, ormaline and bronzing powders together with fimo clay, to create letters, tiles and perhaps a stumpwork creature or piece of fruit to decorate your personal letter or text. These backgrounds can be stitched using either using hand or machine embroidery (if you bring your machine I happy to review free machine embroidery). Finished pieces have been popular to mark births, birthdays and special anniversaries. They can also be made into small ring cushions for weddings.
Other Residential or Summer Schools
I have taught all the following courses as residential or summer schools, unless otherwise specified they are all week long courses. They could be run in your own venue for private groups or as part of a larger arts event. I am very happy to work with you to combine subjects to create a syllabus that is relevent to your interests.
Natural Dyeing
Use a variety of pre and post mordants together with a range of natural dyes to create a portfolio of samples showing the full spectrum of colours, from yellow, orange, red, pink, purple, blue and green. The main dyes you will use are indigo, madder, cutch, cochineal and weld although time will also be allocated to use more readily available kitchen dyestuffs.
Computer Design for Textiles

Following the syllabus of City & Guilds level 1, use Paintshop Pro to create designs which you will develop into a portfolio of samples in your own craft. You are not expected to have any experience of Paintshop Pro, however it is a requirement you have basic computer skills and supply a venue with appropriate facilities (a library perhaps).
Introduction to Machine Embroidery
Follow the syllabus of the City & Guilds level 1 to produce a portfolio of samples showing surface decoration on a variety of fabrics using free machine embroidery and automatic patterns. Techniques covered on this course will include design, layering and cut through, appliqué, quilting, and working with soluble fabrics.
I am teaching the City & Guilds course at Denman College.
See samples for this course »
Gardens

Focusing on text, and machine embroidery.
See the programme and images from the course »
Trees
Using the colours, shapes and texture of trees and leaves, we will cover both hand and machine embroidery techniques combined with printing on a variety of materials.
See the programme and samples for this course
»
Fruit and Vegetables

Focusing on still life and 3-dimensional work.
See the programme for this course »
Beach
Focusing on hand embroidery.
See the programme and images from the course »
Court Hill Centre, Oxfordshire
The Court Hill Centre is a youth hostel, conference space and stopping place for walkers in a beautiful setting on the edge of the Ridgeway a mile or so from Wantage town centre. I have been holding textile workshops here for some time and the list is regularly updated. If you are interested, then do sign up to the newsletter and I will email you with the dates of new courses.
There is a cafe which is available for hot and cold food as well as delicious cakes or you are welcome to bring a packed lunch.
The cost for each course is £30.00. I will supply the materials for the indigo vat but you will need to bring your fabrics and threads for dyeing, anything natural will dye well. I will send a list of other requirements on booking.
To reserve a place, please send a cheque for £30.00 made payable to Anne Griffiths to 4 Gabriel House, Newbury Street, Wantage OX12 8DJ or via PayPal. This is non returnable unless your place can be filled.
17th July 2015 10.30 - 16.00 "Indigo Dyeing"
Learn a little about the history of one of the oldest dyes known to man and how to set up an indigo vat.
We will then use traditional tie dye, folding, clamping and resist techniques to create a range of beautiful blue fabrics and threads.
The techniques learned on this course can be used at a later date with procion and acid dyes.
You are very welcome to come and stitch if you do not want to spend the whole day dyeing, give me a ring and we can discuss alternatives.
Schools
I have taught in schools at all levels from foundation stage to 'A' level. Workshops can be anything from a half day to a week long residency. Details of Schools projects run with a variety of age groups.
I am interested in how the approach to teaching in schools has developed from formal learning by rote where students have no control or ownership of their learning. Today, creativity and the holistic approach to study has given a sense of relevance, and attention is given to soft skills developed as part of the education process.
It is with this in mind, that I have developed a workshop for Year 9 pupils that combines my experience with working at a large scientific installation with art, design and textiles.
Distance Learning - Machine Embroidery
This course has been developed from the City & Guilds 7822 course which I taught at Gloucester college and by Distance Learning. In college this was a one year course with 120 hours tuition time, taught one day per week. Unfortunately, due to funding cuts it is becoming increasingly difficult to take this course which is why I have decided to begin teaching it as a distance learning option again.
This course contains the same syllabus, as the City & Guilds, the only difference is that as I am no longer attached to a college, there is no certification available.
The course is suitable for those new to machine embroidery as well as those who want to develop there skills using a structured course. Information on this course »