Residential Courses
'Beachcombing - 24th February - 3rd March 2017'
Our starting points for the week will evolved from the stripes, spirals and circles found in the landscape of the beach and the shells and pebbles that are found there. We will begin the week dyeing natural fabrics and thread with indigo, we will then draw, print and stencil as you wish and combine with hand and machine embroidery techniques. There will be the chance to work with soluble fabrics and get to grips with metallic threads if you wish. You may wish to continue with your individual project or complete the week working with mixed media to create tiny sketchbooks or stitch a saucy postcard.
The course is suitable for complete beginners as well as the more experienced who wish to expand their skills.
Before the course we will discuss your aims in order that the week can be tailored as much as possible to your personal requirements.
If you have your own ideas for a project then of course you are free to work on this with additional ideas support and input.
You will stay on the beautiful working farm of Bodrugan Barton where you will have an individual room with ensuite bathroom, use of the heated indoor swimming pool, and sauna. For more information on the farm and accomodation click here.
Cost is £450. This includes accomodation, tuition and some meals as detailed below. A deposit of £120-00 is payable on booking. This deposit will be refunded if your place can be filled. There may be a small charge for some materials. The remainder to be paid in installments.
You can pay by cheque, payable to Anne Griffiths, 4 Gabriel House, Newbury Street, Wantage, Oxon OX12 8DJ, or securely online using your credit/debit card via PayPal.
Here are more of my sketchbook images for the course and students' work from March 2013 and October 2013.
Friday
Arrive 16.00 for Introduction and Discussion. Review samples, and look at your own source material and ambitions for the week.
Welcome Dinner 19.30 (cost included).
Saturday
Visit the local beach for inspiration and collecting material. This could take the form of photographs or drawing if you wish, or collecting shells, pepples and any general flotsum and jetsum which could be used as reference material.
Sunday 10.00 - 16.30 (lunch included)
Preparing Fabrics
Naturally dyeing fabrics for use during the week. We will set up and indigo vat to give a range of blues, use cabbage for lilacs and grey and onion skins for gold and orange. This is always a popular workshop whether you have dyed with indigo before or not and we will begin creating a range of different fabrics including silks and cottons using tie and dye and resist dyeing techniques.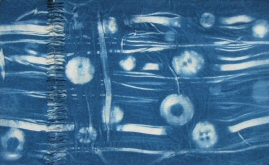 Monday 10.00 - 16.30 (lunch included)
Pebbles and Shells
We will use fabric painting combined with hand and machine embroidery techniques to develop pieces based on the circular and spiral shapes of pebbles and shells. These could be developed later in the week into purses or bags.
Tuesday
Free day for sightseeing or working on your project. You could visit the Lost Gardens of Heligan, the Eden Project or Tate St. Ives is just over an hours drive away.
Wednesday 10.00 - 16.30 (lunch included)
Patterns and Landscapes
Whether the stripes found in the banding of shells or in the landscapes of the beach we will investigate pulling, fraying and distressing materials as backgrounds for stitch.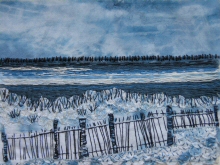 Thursday 10.00 - 16.30 (lunch included)
Postcards & Stamps, Handmade Books or Continue with Your Own Project
Create your own textile postcard, whether an interpretation of your own photograph or drawing or a copy of one of the old "naughty" cards, make your own card, and of course a stamp to go on it! Hand or machine stitch.