Diffraction Patterns
A diffraction pattern is caused when a beam of light bends around an obstruction. By observing these patterns, it is possible to analyse the structure of microscopic particles.
It is by utilising intense light beams in experimental stations known as beamlines, the scientists at Diamond can analyse these diffraction patterns to reveal new information to support the life, physical and environmental sciences.
Both the diffraction pattern images shown were generated using Paintshop Pro.
The background is created using a charcoal cotton overlaid with a blue organza. Yellow dots of cotton are cut and bonded onto the background some of which are overlaid with yellow organza.
The image of the background with some stitch applied, and the detail closeup (below right), shows how each dot will be embroidered in blanket stitch, running stitch and French knots.
Design by Anne Griffiths
Made by members of the Home and Garden committee.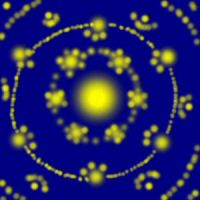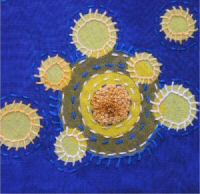 Design by Anne Griffiths
Made by Diamond staff, Wantage and Wolvercote WI's.